Sansera's forging capabilities, considered to be one of our cardinal pillars, play a crucial role in the production of critical precision-forged components. We have designed our forging facilities to meet the dynamic demands and precise requirements of the competitive industry. By integrating modern technologies into these facilities which are headed by experienced and proficient minds, we are capable of producing the most complex and critical precision-forged parts for the automotive and non-automotive industry.
We have most advanced facilities to deliver forged steel and aluminium components for all segments
Facilities equipped with Drop Hammers that range from 750 kg to 1500 kg

Hydraulic Hammers ranging from 1000 kg to 1600 kg

Forging presses ranging from 630 ton – 2500 ton

Automated Forging Lines comprising of 1600 Ton (KOMATSU) to 2500 Ton (KURIMOTO) Forging Press

Our Forging facilities also house facilities such as 
Shot Peening

Shot Blasting

Controlled Cooling

Hot padding

Cold padding

Hardening

Tempering

Normalizing
We can produce precision forged components ranging from 5 gm to 13.5kgs across our various facilities.

Fitwel Forge, another ISO certified subsidiary of Sansera, facilitates Drop Hammer forging in the range of 250 kg to 1500 kg, and operates presses varying from 250 ton to 1600 ton and also equipped facilities such as shot blasting, normalizing, hot and cold padding.
Aluminium Forging Facility
Considering the need of light weighting of components, Sansera has set up facility for Aluminium Forging and Machining at Bengaluru India. 
Our recent progress in aluminium forged products is a step towards enhancing capabilities in light weighting of components.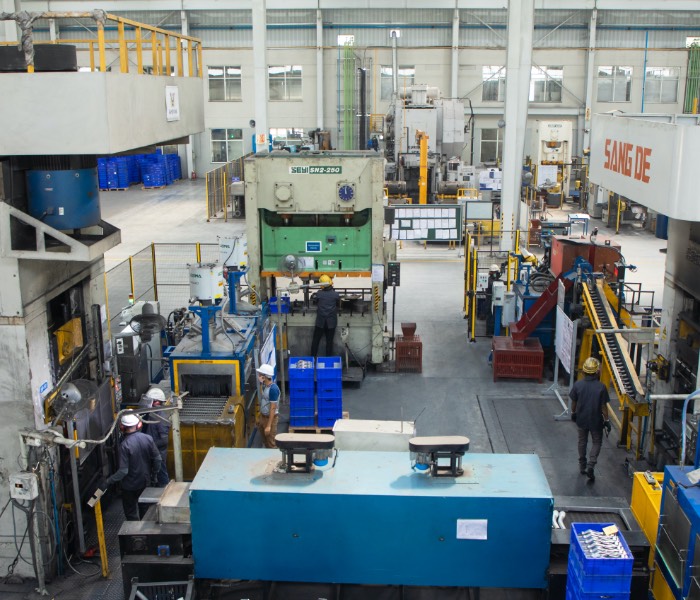 The facility is equipped with : 
MAZAK –SJV Die Milling Machine

CNC Circular Saw

Induction Billet Heater 

Continuous Electric Oven

1600 Ton Electric Screw Press 

630 Ton Electric Screw Press

Wide Ram Trimming Press

FPI – Fluorescent Particle Inspection

Shot Blasting

Painting   

Anodizing

(planned)
Die Milling Capabilities
Sansera is one of the very few companies to be equipped with in-house CAD/CAM facilities for Die preparation and Milling, across all our forging units
Machines used for Die Milling – MAZAK, MAKINO, DMG MORI, MORI – SIEKI